Por el momento este artículo solo está disponible en inglés 
SmartLink is an indispensable process that allows you to save both time and money as well as monetize your traffic to its full potential. The functionality of SmartLink enables users to easily optimize the efficiency of their traffic. Based on Artificial intelligence and machine learning, SmartLink combines multiple offers to a single link. This link then distributes traffic to offers with the highest EPC when opened.
It is for this reason that SmartLink's proceedings rely on AI, reload offers, and prelands based upon the characteristics of incoming traffic at any given moment. For example, SmartLink would consider characteristics such as; location and type of a device, as well as the age and sex of the client. The most profitable GEOs of the dating market to this day are still; DE, AT, CH, US, UK.Likewise, Geo Tier 2 & 3 are also worth your attention — make sure not to discard them.
SmartLink is compatible with every device — desktop, mobiles, tablets, and even Smart-TVs.
Trafee's affiliates have no reason to waste time on selection and testing when it comes to converting offers and prelands. Even though it isn't possible to disable prelands, evidence shows that conversions on offers with prelands are seemingly higher. Moreover, it helps if users remove bots at an earlier stage.
The only thing that you need to do is simple. Create a SmartLink and start sending traffic. In return, SmartLink, which constantly analyses data, will choose the most suitable converting offers and suggest them to users.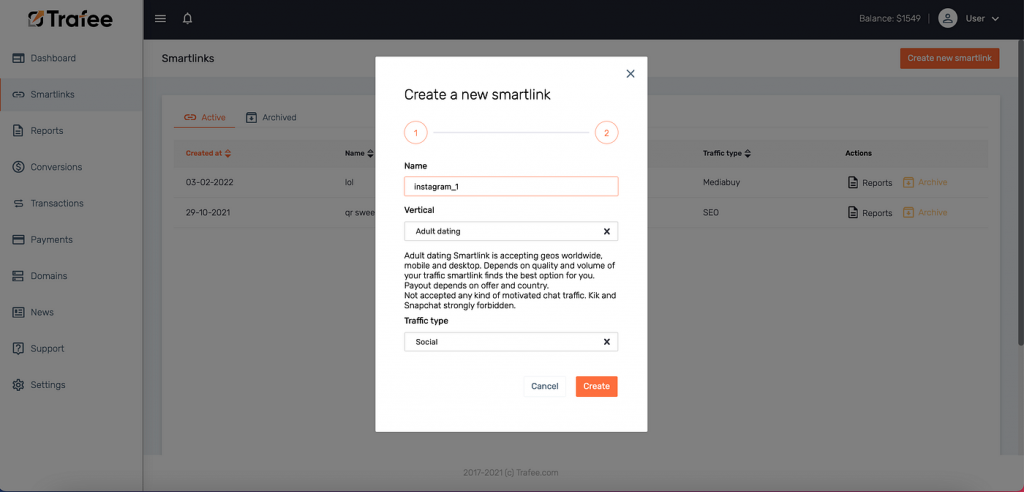 Due to its "smart" algorithms, SmartLink is able to collect all the required information about users and in turn, show them the offers that are the most suitable for them.
The SmartLink sends traffic evenly. In other words, first of all, traffic goes to the entire good pool of offers, selected individually for each affiliate. And even if the cap on the offer ends, the SmartLink will offer an alternative converting option. To do this, the SmartLink will send a pair of test clicks to different offers to find the best option
One key advantage of SmartLink is it doesn't have data delays when it comes to updating — data analysis is achieved with incredible speed. Your target audience won't see anything unnecessary. As a result, the desired preland is delivered within a second, and any impatient clients are kept satisfied. This is just one of the advantages of using SmartLinks. There are many reasons why the use of SmartLinks can be considered a smart decision.
SmartLink's advantages:
SmartLinks help you focus primarily on the traffic, not landing and tests;
With SmartLink, there's no need to create separate URLs for every running campaign;
With SmartLinks the number of conversions is constantly rising, and as a result, so is the income of traffic arbitrage.
No expenses on audience testing.
It is possible to send traffic from sources where there are no targeting opportunities. For example, your own websites, doorway, social media communities.
SmartLink reduces costs — you don't need to register domains, pay for a VPS-server, or spend money on any other expenses.
With SmartLink you don't need to constantly monitor your offers — If for some reason they suddenly stop working, the system will connect to the next effective product automatically, meaning your traffic won't be lost.
SmartLink is able to conduct various tests. If previously you didn't attract traffic from teaser websites or web pushes, then now you can easily check their quality with the use of volume tests.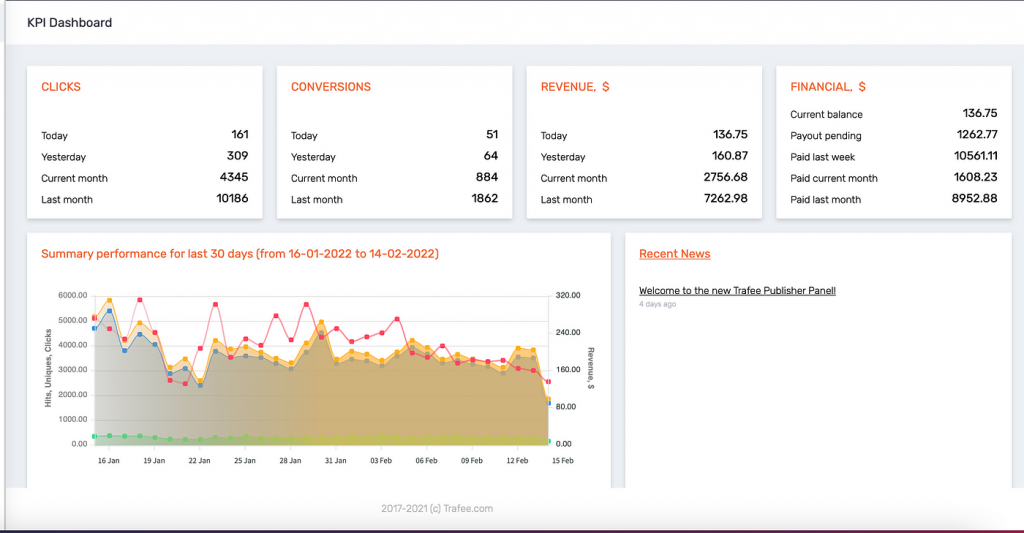 Our affiliate platform has SmartLinks for different verticals. Adult dating, gay dating, and adult games, that work on PPS, PPL, and RevShare models. In addition to this, we have sweepstakes on SOI, PPs, and CC Submit offers.