Por el momento este artículo solo está disponible en inglés 
Trafee is the latest intelligent Internet traffic monetization system that is constantly evolving and will never stop.
We try to create as many opportunities as we can for our affiliate's to earn more. As of such, we have just added the new feature of personal domains.
Advantages of personal domains:
Personal domains provide you with a more comfortable and reliable way of working
Personal domains guarantee better stability in your smartlink's work and are reliable in providing the user with a constant flow of traffic.
This option is available for trusted affiliates and users attaining a high volume of traffic.
Personal domains are a popular function in the affiliate marketing world and now trafee company has joined in on the trend.Typically used only by big trusted networks. With our growing reputation, trafee is now one of them.
Let's take a look at each of the benefits of custom domains:
Custom domains can never be suspended.
Personal domains can protect you from a sudden ban. Public domains on the other hand, which are used by several hundred affiliates every day, can periodically be in a temporary ban due to incoming complaints, usually regarding spam!
2. Stable smartlinks work and constant traffic flow
A personal domain ensures the stable operation of a smartlink and guarantees that your link is always available and active. This ensures that your users will not have any problems during their interactions with the smartlink. We also want to remind you that the domain does not influence or interfere with your offers, and that it only works to optimise the operation of your smartlinks work.
Switching from a public domain to a personal one won't be difficult. With our help, you won't need to register a domain name and delve into all the nuances of setting and binding all by yourself.
All you have to do is make a request through your personal manager and they will soon assign you a personal domain of your own. The option to change your domain will be displayed clearly in your smartlink's settings, allowing you to be as active and creative as you wish. Also, please note that when creating new smartlinks, your personal domain will always be displayed in the domain settings options alongside public ones.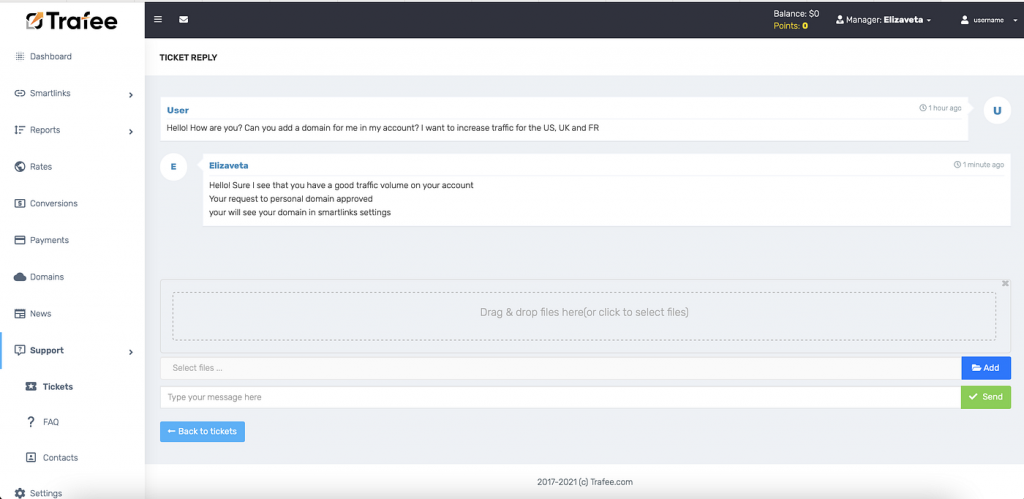 Start working with trafee.com. With trafee you can monetize your traffic easily, wherever you are in the world. Trafee cooperates with the best advertisers directly and adds new offers each day. 5 verticals are available for to start with: Adult dating, gay dating, adult games, cams,sweepstakes. Smartlink accepts worldwide traffic. You can choose from any of these options for whatever your tastes.
Want to reach a new level and quality of working in affiliate marketing? — Try Trafee, because we focus on modern technologies of traffic monetization.