В настоящее время, статья доступна только на английском языке
Winter is here, meaning cold weather, a short day, and a great opportunity to keep yourself warm with Adult Games vertical. Today our team from Trafee prepared a new article for that vertical. Fresh info, insides, and tips for one of the most profitable verticals of affiliate marketing.
Among all the Adult verticals, Adult Games take one of the leading positions in terms of budgets, constantly raising for the last 5 years. Did you know that more than 40% of traffic from websites like Pornhub, XNXX, Xvideos, and others are directed to Adult Games? This popularity is a result of a wide selection of countries — the majority of the offers are available worldwide; besides, they are also localized to a large number of languages.
The funnel of Adult Games vertical is usually in that order — banner (pre-roll) — prelanding — landing for mediabuy traffic. We recommend you using a prelanding for an additional chance to monetize users (push notifications, e-mails, and so on); it's also great for "warming up" the users, as the majority offers are PPS. But RevShare works just fine here, too. In Trafee, for example, an exclusive offer Porn Star Harem is available in both PPS and RevShare, so you can try both variants and see what brings you more profit.
Next, we'll cover the most important part in launching your campaign — promotion. Creatives are crucial, and the best variant is to make your own, based on the competitors' creatives. To do that, you can either do your own research (using VPN to browse top Adult websites and getting ideas for your creatives), or use a spying tool, that will save you time and be more efficient; besides, you won't have to suffer and spend hours of your day browsing porn (at least not for the reasons you usually do).
You should also note, that gay and trans content in Adult Games make a big percentage of the whole market. Aside from that, the most popular inspiration for Adult Games are trending movies, games, comic books, alongside Instagram and real-life celebrities.
When you think about Adult Games, usually hentai pops up in your mind, but this vertical is much more than just hentai, so don't focus only on that. For creatives, a go to scenario is making a parody out of that famous persona and make whole scene with them — an average Pornhub enjoyer would be definitely intrigued. Remember the SAB rules — Sex, Ass, and Boobs, and as much as possible.
If you're not very good with coming up with creative phrases, "This game makes me cum in less than a minute" is a standard practice in the vertical.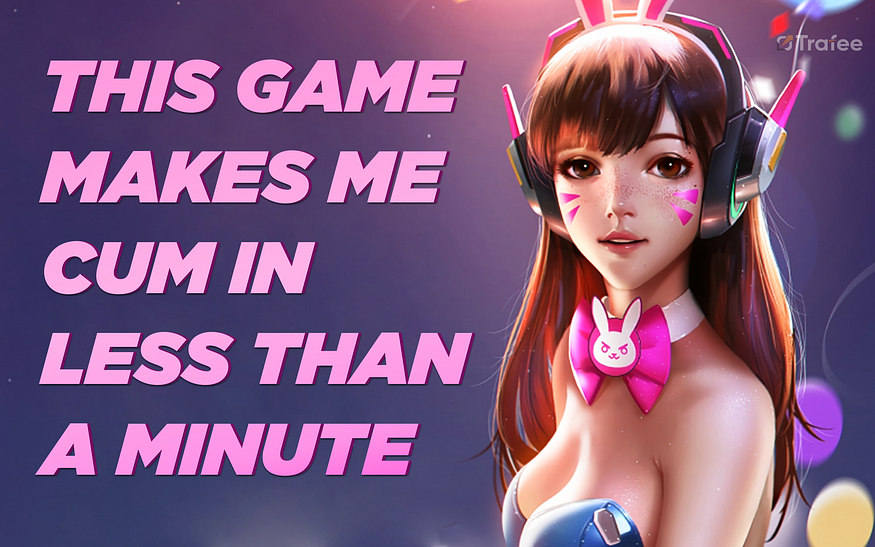 As a bonus, here's an inspiration of the most searched games and characters online, based on PornHub searches: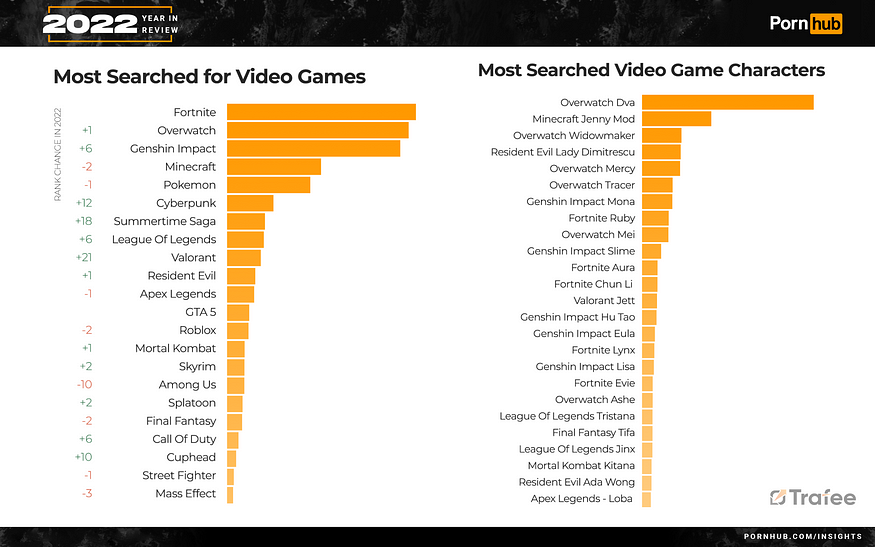 Pornhub posts trends on games searches every year — which requests are popular at the moment, which games release caused a jump in traffic and so on. You should definitely check it out — it has some very interesting statistics, that will surely help you😉
As a summary — Adult Games is a vertical, which is definitely worth paying attention to. It has everything you'll love — high GEO coverage, high payouts, and almost infinite promotion opportunities. Test it yourself — try exclusive Trafee offer PornStar Hare