В настоящее время, статья доступна только на английском языке
At the beginning of 2022, TikTok's audience exceeded 1 billion users worldwide. With that many users it isn't surprising that the platform quickly became popular for reasons other than its ability to deliver an entertainment fix. Where there's a lot of traffic, there's a lot of money to be made, and many are seizing the opportunities presented by the app to make significant earnings. Perfect for the niches of dating, sweepstakes, and e-commerce, making money from TikTok can be quite simple.
Today we'll discuss a couple cool life-hacks you can use for monetizing traffic through TikTok, such as: How to insert a link in an account, under a video, or send in a private message, and how to download a video without a watermark.
Since officially on the platform, monetization is only possible for users with 1000 subscribers or more, and on live broadcasts, what remains is the option to earn on the sale of goods and services — whether this be your own or a partners :) But in order to do this, you first need to add a link from which interested users can use to go to your desired site or pages on social networks. Let's talk about how to do that:
How to add a link to your TikTok profile?
From the very beginning, it is important that you create a business account. This will enable you to add a link from the start of your TikTok journey. Moreover, it's important to note that such accounts have professional dashboards, with useful insights and statistics, as well as the possibility for a fast reply via DM.
Besides a link in your profile, TikTok also has additional columns for your Instagram and YouTube — these will be shown as logos on your profiles.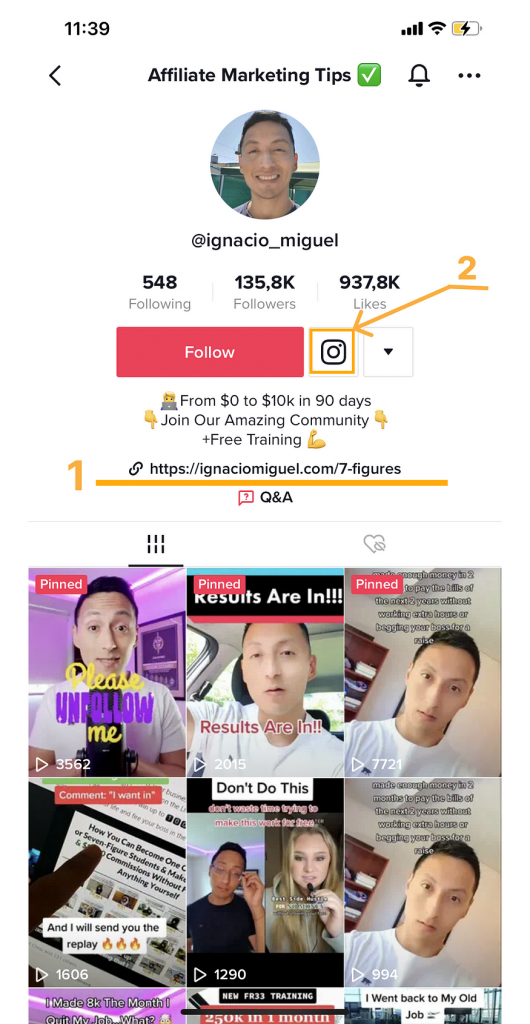 Currently, you can add only one active link to the TikTok profile. Or you can use a multilink service.
How to Add a Link to the Video in TikTok
Unfortunately, you can only make a link to another TikTok account, aside from a couple of exception sites. These include Wikipedia, TripAdvisor, and charitable sites that vary from region to region. All other links will be inactive.
Can I add a link to my private messages?
Active links — no. However, no one prevents a user from copying the link and opening it in a browser. WIth that said, even with inactive links don't get carried away — algorithms can quickly consider it as spam and block your account.
How to Download Video From TikTok Without a Watermark
Unlike Instagram, TikTok makes it easy for users to download videos without a third-party service — You can also easily share the videos on other social networks or just send them to a friend.
In doing this everything would be fine, only the video would be saved with a watermark — the TikTok logo, which is not liked by everyone.
Fortunately, there are a couple of simple ways to bypass the system and download videos from the Tiktok without a watermark — Listen up, because here's how:
Method 1. By using a website
The easiest way, which does not require downloading additional software, is to use a downloader site. The Internet is full of special downloaders: in order to save your favorite video without a logo, all you need to do is insert a video link from the TikTok application and the web-service will do the rest by themselves.
The only difficulties can be experienced by owners of iOS devices: you can download videos on iPhone and iPad, but only in the browser Safari. For Mac however, there are no restrictions.
All the following services work on the same principle, choose the one you like the most:
Method 2. By using an application
For Android
Android users have the option to quickly download TikTok videos of their choice using applications such as: SnapTik — Tiktok Downloader. Simply insert a link, click Download, select Without Watermark — and enjoy the clip directly in the app or saved in your gallery.
Play Market is generally full of similar applications, many of them are free and almost identical in their use — simple functionality and a huge amount of advertising.
For iOS
IPhone users are less fortunate: the App Store does not contain any official applications for downloading videos without a watermark.
Method 3. Using a Telegram-bot
Those who use Telegram as their main messenger will be comfortable with using a special bot — for example, @ttsavebot.
With this, you can immediately share a clip in the messenger or save it directly to your gallery.
Other bots work on the same principle. We recommend you look at @savetok_bot, @toksaverbot or @downloader_tiktok_bot
Conclusion:
We have reviewed several life hacks that will simplify the monetization of traffic on the most popular platform at the moment. Film trending content, use your unique marks and apply your special effects. We wish you success!
Let us know what platform you want to see next!