В настоящее время, это статья доступна только на английском и испанском языках.
To start with, let's clarify what is Trafee, what it does, and why it is valuable in any kind of business! Trafee is a superb traffic monetization system and AI that has a focus on data. The significant difference of the service from other dating networks is that it uses the AI-based smart link solution, which contains more than 2,000 offers and permits webmasters to get the most out of their traffic. What is more, Trafee's team has exceptional experience in developing high-performance traffic management systems in 100+ countries and 20+ languages spoken.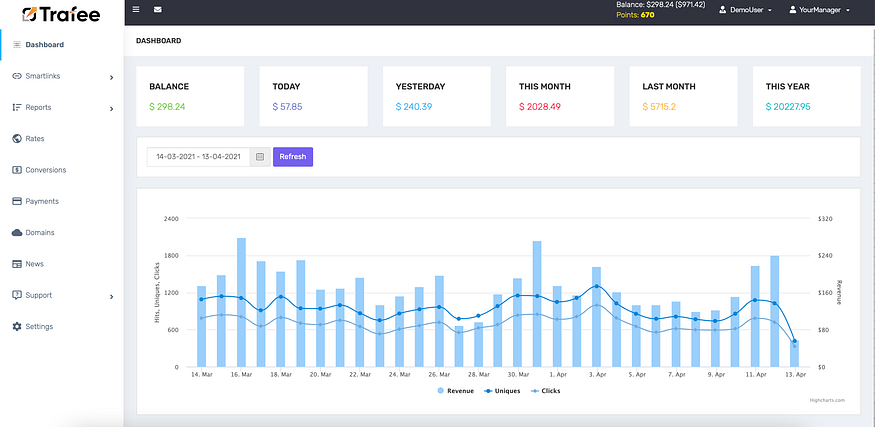 What does it mean in more simple words? Trafee picks up numerous offers and tracks the effectiveness and the progress of your personalized ad campaigns on mobile, desktop, tablet, and Smart TV devices. The only thing you have to do is — send your traffic to SmartLink, and then the Trafee will do all the work for you. Sounds easy; let's get to the details of the working mechanism of SmartLink!
Smartlink is an essential tool for efficient advertisement or any other marketing activity. Why? The answer is more straightforward than you expect: SmartLink is a collection of multiple rotating offers that determines your marketing campaign's effectiveness. With Trafee, you can also do an in-house analytics solution or pass your conversions to any third party by using the postback URL. In fact, there is a Keitaro template that you can easily use to set up the postback URL.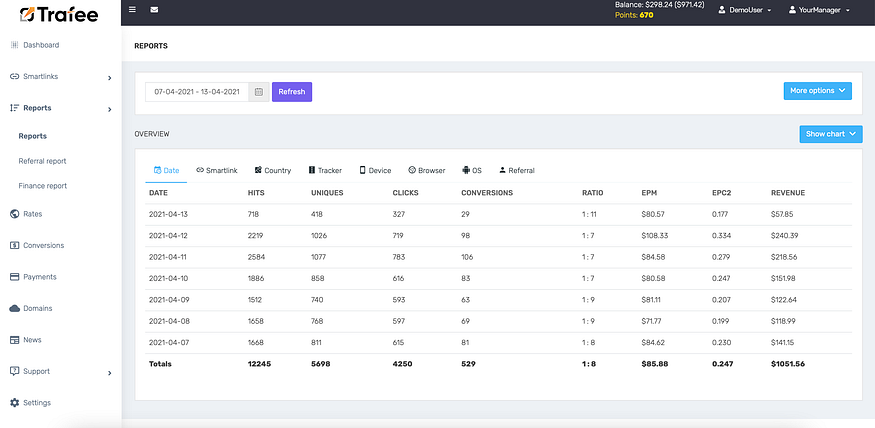 As mentioned before, the Trafee mechanism is designed to optimize smartlinks, which process approximately 2,000 offers and creatives constantly. In most cases, the smart link offers dating products either from direct advertisers or affiliate networks. In 2021, Trafee is the quickest automatic smart link optimization that is available on the market. You can choose three different business models such as PPS, PPL, and RevShare. Offers can be divided into four sub-verticals:
Adult dating* on mobile and desktop devices with traffic is based on PPS, PPL, and RevShare
Gay dating* on PPS, PPL, and RevShare
*Note: the network is not accepting any bot, chat, and incentivized US/DE/UK/AU/CA/SE/FR/AT/IT/CZ/CH/NL/DK/NZ/HU traffic and traffic from the website manhunt.net. If you break any of these rules, the network will block your account
Adult games on PPS, PPL, and RevShare
Cams on PPl and RevShare
To register on Trafee, you need to be a seasoned affiliate marketer or a webmaster. When signing up, you should be ready to submit such information as your traffic sources, GEOs, ad formats, your experience with similar companies with statistics. Generally, applications are reviewed within 48 hours. When you are registered, each of the companies(partners) will get a SmartLink that analyzes their traffic in meticulous detail and pick the most influential creatives that will maximize your income!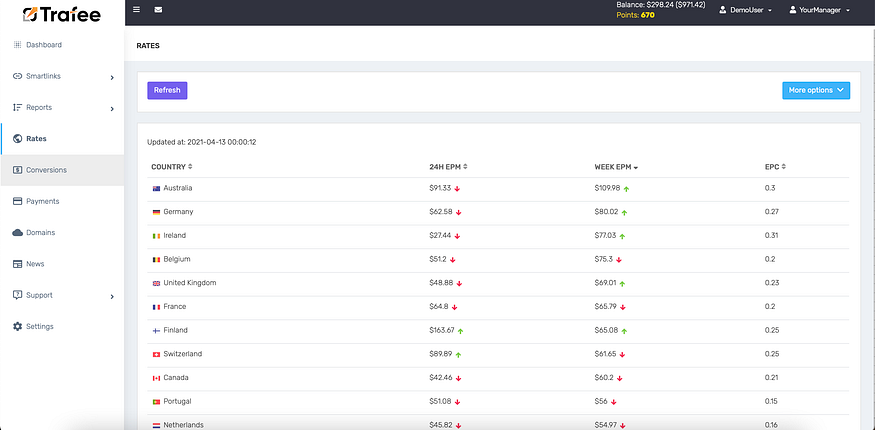 Interestingly, Asian countries have a high rating even though these countries rarely make it to the top. We advise you to consult with your manager to monetize the traffic in your best interest. Each of the partners will be assigned a unique affiliate manager who will help you launch your first SmartLink campaign, figure out any issues, and inform you about new offers and payments.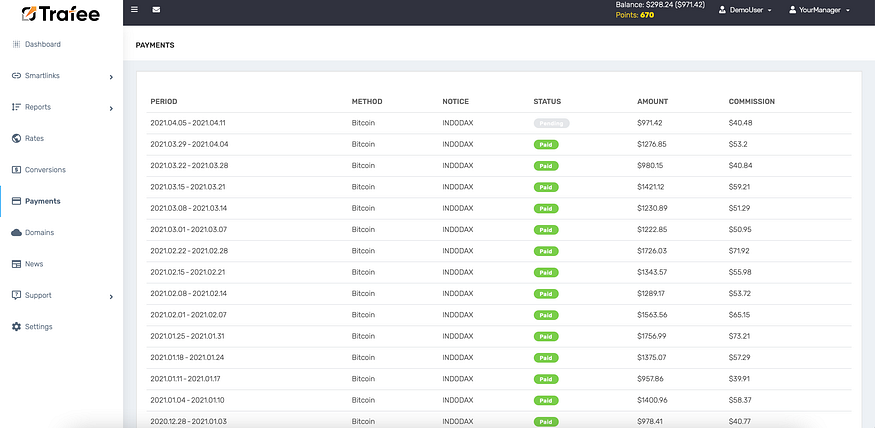 The payments are conducted every week, and the minimum threshold is $100. You can pay with such methods as WebMoney, Paxum, Wire, QIWI, PayPal, Yandex Money, Capitalist, and Bitcoin. Payments are received within four days, from Tuesday to Friday. For instance, the payment for the period (March 1 — March 7) will be sent on March 9. Trafee also has a referral system: a partner receives a reward from the invited people's income. The percentage is decided by the administration.
Join us and earn more money!