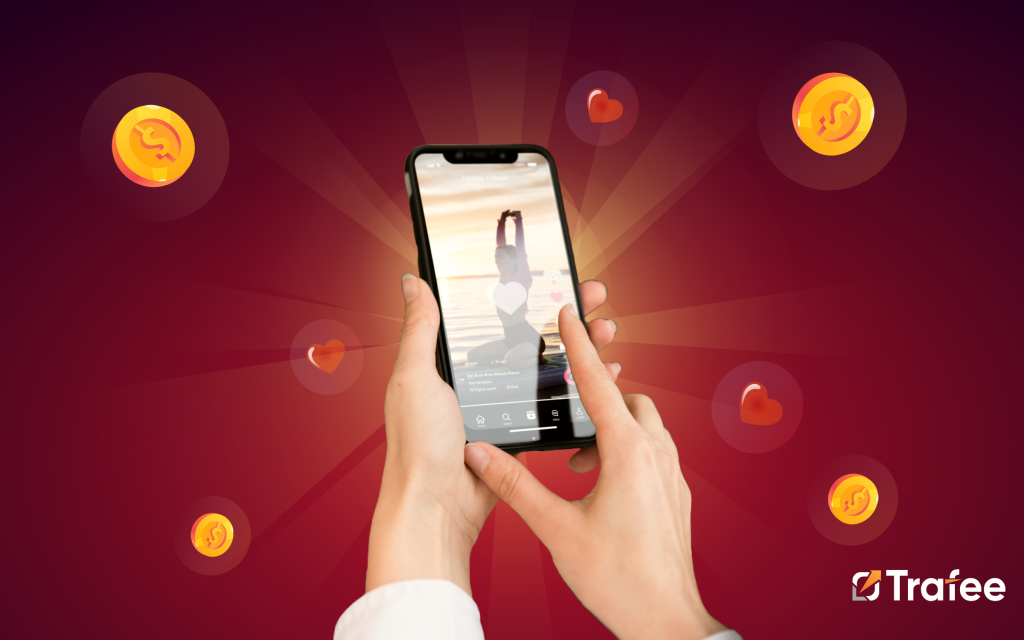 Welcome to our guide on posting Shorts and Reels on Instagram and YouTube! This article will provide tips and guidelines for maximizing exposure and engagement with your content. We'll also discuss how Trafee can enhance your free traffic efforts.
Additionally, we'll offer a friendly guide to getting traffic from these formats and highlight the benefits of working with free traffic and Trafee's trusted partners to boost your earnings. Let's get into it!
Tips for Posting Shorts and Reels
Posting Shorts and Reels on social media platforms like Instagram and YouTube is easy if you follow simple guidelines. Here's a quick summary:
For Instagram Reels, make sure your video has the following:
An aspect ratio between 1.91:1 and 9:16, with a minimum frame rate of 30 FPS and a minimum resolution of 720 pixels.
The video's cover should be 420 by 654 pixels or have a 1:1.55 ratio. With the new feature on Instagram, you can edit your cover up to seven days after posting a reel.
Highest quality MP4 or MOV file since the platform will "shrink" the video to 1350 pixels.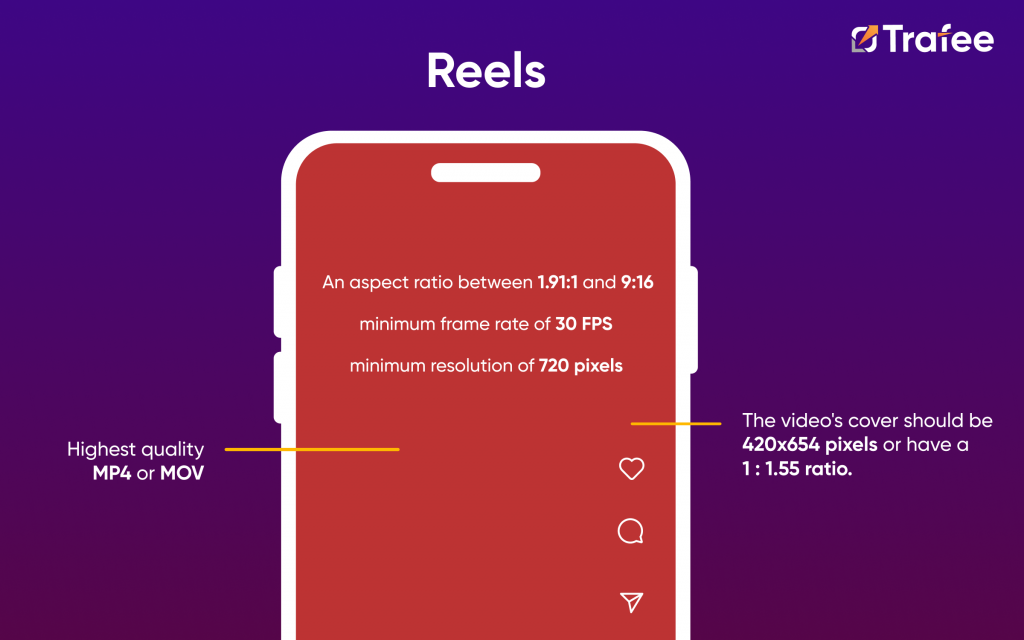 Remember to follow Instagram's Community Guidelines to avoid getting your content removed from the platform. If your video contains violent or pornographic elements, the community may report it.
YouTube Shorts have a different set of rules:
The video is limited to 60 seconds, and the format is kept at 9:16.
The video's name should be 100 characters, and you should choose your audience - children or adults - before publication.
Also, if your Short uses music from the YouTube catalog, your Short will be limited to 15 seconds only.
Our tip is to add #Shorts to the video's description to get maximum exposure from the platform.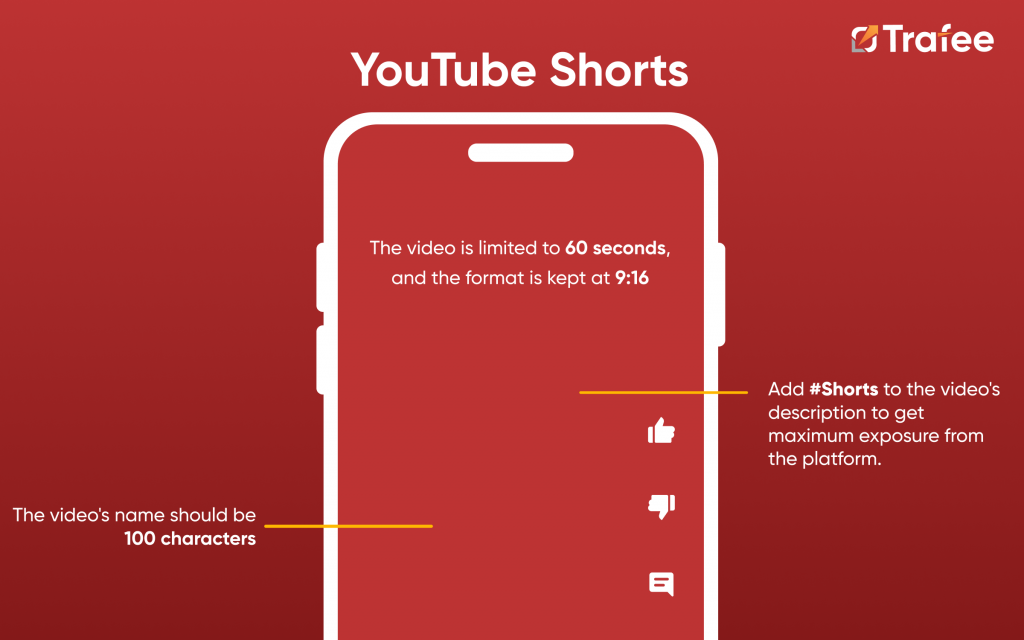 Revenue sharing on YouTube Shorts started on February 1, 2023. Monetizing partners can earn money from ads viewed between videos in the Shorts Feed. This new revenue-sharing model has replaced YouTube Shorts.
Remember, regularly posting content can help grow your audience:
Try to maintain a consistent posting schedule.
A compelling thumbnail can attract more viewers.
Make sure it's clear, engaging, and accurately represents your content.
High-quality content is key.
Ensure your videos are clear, well-lit, and have good sound quality.
Utilize the analytics tools provided by both platforms to understand your audience better and optimize your content strategy.
Recent Statistics on Reels and Shorts Traffic
Did you know that as of July 2023, 2.35 billion people interact with Reels monthly? That's a huge number! And it's projected that Instagram will have 2.5 billion monthly active users by the end of 2023.
Reels get 22% more interaction than standard video posting, and Instagram users spend a whopping 17.6 million hours a day watching Reels. Reels are a popular format with users, potentially driving more engagement than standard videos.
Moving to YouTube Shorts, it was initially launched in India following the TikTok ban in August 2020 and was rolled out globally only in June 2021. But the stats are promising: As of July 2023, there are 2 billion logged-in users.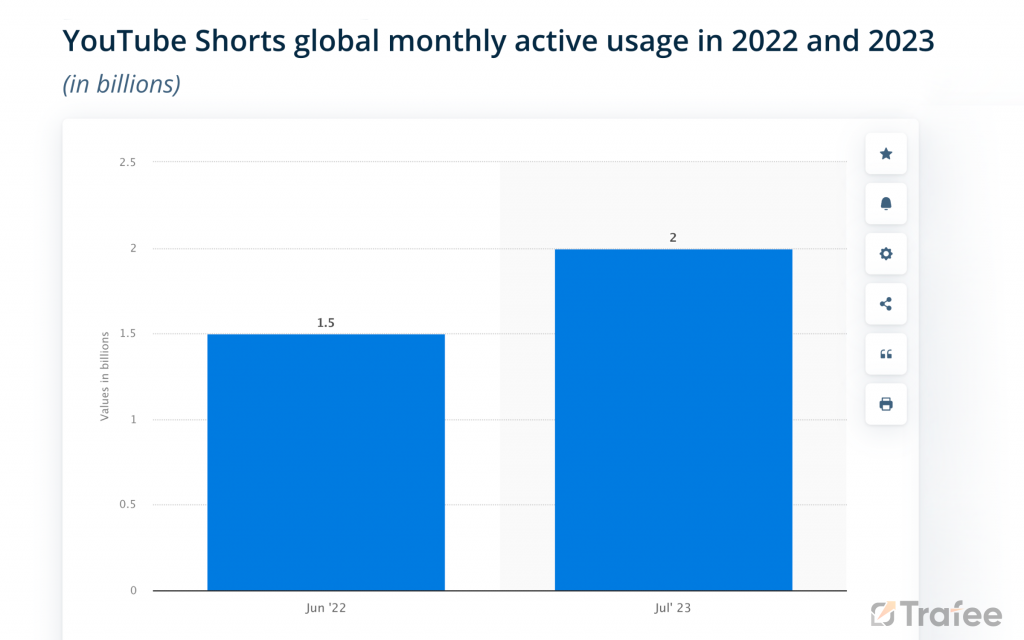 YouTube has been heavily promoting its short-video format platform since its global launch, including redirecting users automatically to Shorts when the YouTube app is opened and launching the YouTube Shorts Funds to entice creators' participation.
Furthermore, influencers on TikTok and YouTube generate the largest share of video views, over 90 percent. At the same time, content produced by media companies and brands constitutes only a minor part of the video views generated on the two video platforms. This highlights the importance of content creators in driving engagement on these platforms.
How to get Free Traffic through Reels on Instagram: A Guide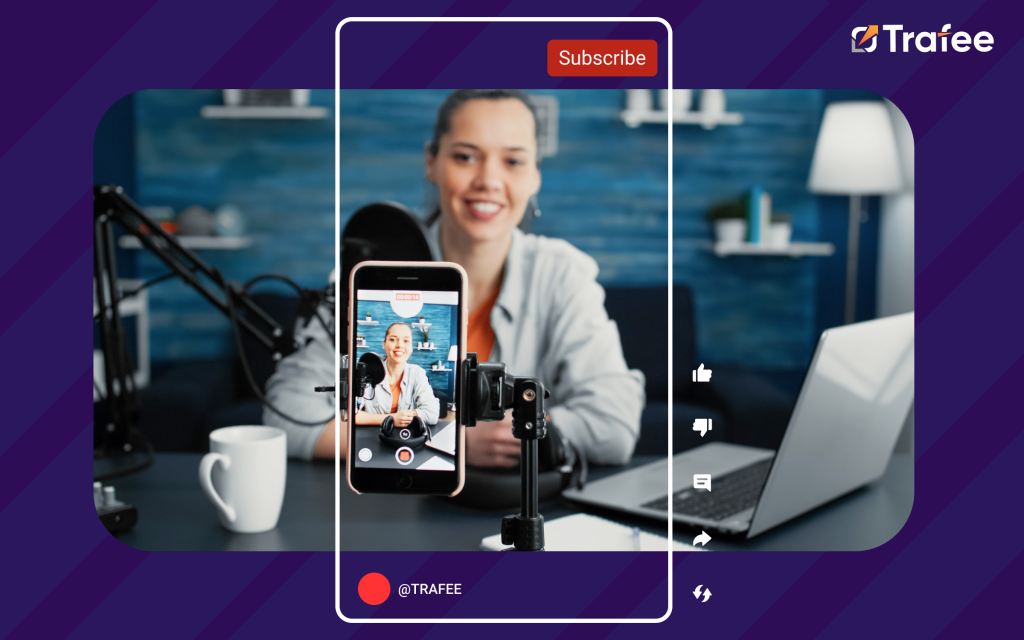 Getting free traffic through reels is pretty simple. All you need are some Instagram accounts, boosting services, a Telegram channel or landing page, an anti-detection tool, including Multilogin and AdsPower, proxies such as ProxyScrape and SmartProxy, and content for Reels.
To start, let's set up our page. Add an avatar, write a description, and include a link to your offer or landing page on your profile. We recommend using a landing page to avoid any problems with blocking due to complaints or links.
Once you've uploaded your profiles and proxies to the anti-detection tool, launch Instagram and click "Create" on the right. Then, click "Choose from Computer" and upload a video for Reels. After uploading, click "Next" and choose a cover and sound for the reel. Add a caption and some hashtags to the video. You can leave a link in the description or duplicate it in the comments.
You can also set up subtitles and alternative text if you'd like. Just click "Special Features" and then "Share" and wait for the video to upload.
We recommend leaving a link to your landing page in the comments and profile, not the description. In the description, tell users they'll find an answer to their question, a prize, or a promo code for the first deposit in the comments.
Another way to get free traffic without links through Reels is to use promo codes in viral videos. This doesn't violate the platform's rules; such videos aren't blocked. Users remember and use your promo code when registering, and they're often shared, giving you more viral coverage.
For better promotion, boost a few likes and comments on your published video, but do what is necessary to avoid being blocked for suspicious activity. In particular, be careful to avoid getting into the motived traffic, which happens when visitors who visit your website or social media pages have a specific intention that does not relate to buying services or products.
In other words, motivated traffic refers to users doing some action in return for compensation, whether it is money-wise or not. Such traffic usually consists of low quality and would not give you the desired conversions, so it is always a good idea to engage with users naturally by asking questions or prompting viewers to like, share, or comment, as this can boost your content's visibility on social media platforms, including Instagram.
How to Get Traffic Through YouTube Shorts: A Guide
Working with YouTube Shorts is straightforward and similar to working with Instagram. The principles are almost the same: create an account, upload content, add a link, and wait.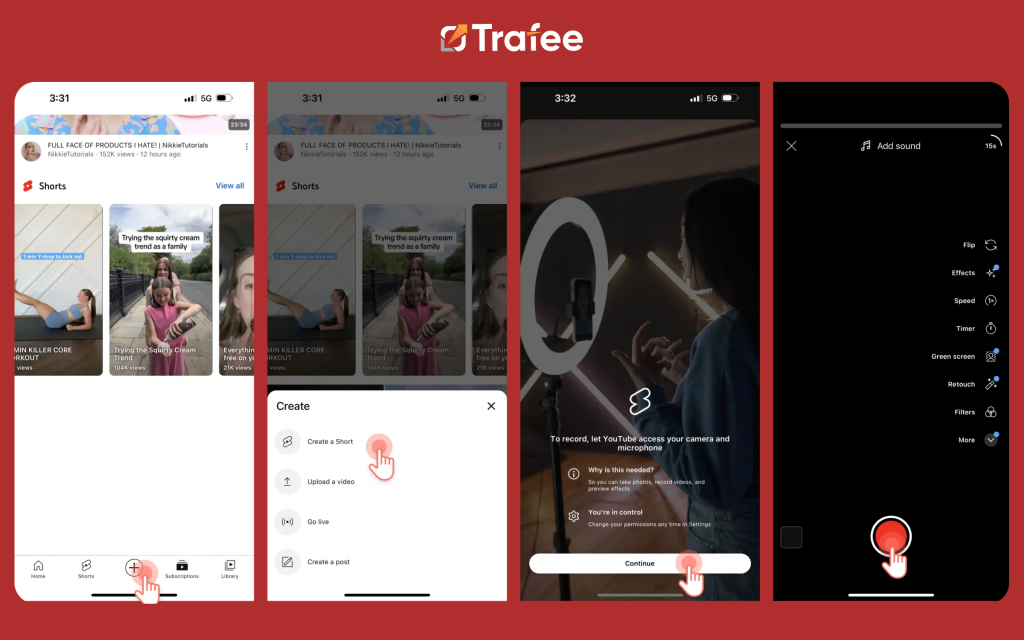 To get conditional-free traffic through YouTube Shorts, you can try two ways:
Publishing a link to an offer or landing page.
Attaching a promo code to the video.
Select the "Shorts" section on the official YouTube website to upload Shorts. Click "Create" in the top right corner, then "Add video". Choose the file and add your future short video. Enter the video title, and write a description and hashtags. The description also mentions that the link or promo code is in the comments. Click "Next" and add an end screen if necessary. Then, set the checkpoint to "Public" and click "Publish."
The video will appear on your channel in the "Shorts" tab, and you can track statistics through the YouTube Studio. Go to the video and leave a comment with the link.
Your account's lifespan depends on YouTube moderation. Buying warmed-up profiles and using good proxies is best to minimize the risk of being banned.
Here are some attachments to help you get conditional-free traffic through Shorts and Reels. Even though conditional-free traffic is considered free, there will still be expenses. You will need:
Clean and good proxies. Refrain from skimming on proxies or buying data center proxies, as the lifespan of your account depends on them. For instance, consider using residential or mobile proxies to avoid being detected or blocked by the target websites. Such proxies have real IP addresses from local ISPs or mobile network operators, and vivid examples of them include Smartproxy, Bright Data, and NetNut.
Accounts for Instagram or YouTube. It's better to get accounts with some history available on platforms like Fameswap, Flippa, and SocialTradia, among others. If you create your content, these are all the expenses you can expect. If you're planning to order videos from a creative person, add the cost of each video to this list.
Verticals for Shorts and Reels
We first need to consider whether the advertiser accepts such traffic. Even though Shorts and Reels can direct traffic to various topics, Trafee recommends dating and iGaming. It may not be entirely targeted, and the advertiser may not get the expected results.
However, most of these topics are mainstream and profitable verticals, so it's worth a try! Just ensure a link that won't be automatically banned by the anti-spam system and videos that don't violate the platform rules.
Summing Up: A Recap of Getting Traffic from Reels and Shorts
Don't worry. Getting traffic from Reels and Shorts is easy! Here are the steps:
Get an anti-detection browser, proxy, and Instagram accounts.
Make video clips that are up to 60 seconds long with excellent content.
Add your videos to Reels using anti-detection software like Gologin or AdsPower. The more videos you add, the better your chances of getting in the TOP.
Write a description and include relevant hashtags.
Add a link in the comment section and pin it. Also, add a link to your profile's design.
Increase likes and views slightly to help promote the video among real users.
It's a good idea to use a cloaked link as a reference. For example, you can redirect traffic to a Telegram channel and then to an offer. Alternatively, redirect a pre-landing page to the ad's landing page. This will help filter out non-targeted audiences and avoid link bans.
Posting Shorts and Reels on social media platforms like Instagram and YouTube is a fantastic way to reach a large audience and drive engagement. By following the guidelines for each platform and regularly posting high-quality content, you can grow your audience, boost your financial position, and attain a stable income.